The Department of Pediatric and Adolescent Diseases: Shupyk National Healthcare University of Ukraine, always supports the initiatives and desires of young doctors to improve their knowledge and practical skills in pediatrics. So when the intern, Olexandr Olifir, asked to be allowed a business trip to Mexico for volunteer purposes, the management of the department gave him permission.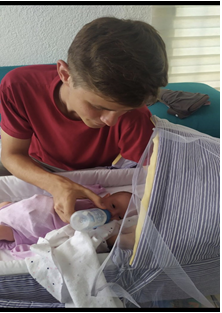 Love Volunteers coordinates and provides accessible programs for learning the medical system and culture of other countries and coordinating volunteers with institutions that need volunteer assistance.
Olexandr Olifir's program provided care and medical support for a premature baby in Cancun, Quintana Roo, from February 8 to 28, 2021. The child was cared by Oleksandr according to recommendations given by medical staff on a daily basis, except on Sundays. The intern's responsibilities included overseeing the proper feeding of the child, hygienic procedures, giving medication, and daily insolation. In addition, Oleksandr Olifir had the opportunity to be present at the scheduled examinations of the children of the pediatrician Dr. Adolfo de Jesus. He assisted the doctor during consultations to perform anthropometry, took tests for neonatal and genetic screening, participated in the implementation of vaccination. This allowed him to get acquainted with the system of primary pediatric care in Mexico, as well as to learn about the stages of education of doctors in this country.
During his volunteer mission, Oleksandr proved himself as a well-educated doctor; an inquisitive and skilled worker; and a sensitive and friendly person. He showed his worth by his example; proved the quality of the Ukrainian medical education and its competitiveness; and the desire of Ukrainian physicians to integrate into the world medical community. 
Department of Children's and Adolescent Diseases: Shupyk National Healthcare University of Ukraine under the leadership of Professor Galina Beketova will continue to help interns expand their ability to improve communication and professional skills.