On May, 20-22, 2021 the Annual Conference "Actual problems of contemporary diabetology" took place. As in the previous years, the conference was interdisciplinary and was very well received by participants.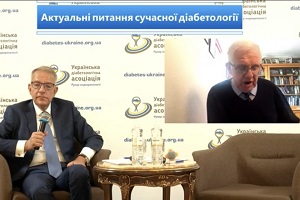 The speakers at the conference were from the United Kingdom, Finland, Hungary, and from our country. They presented the modern approaches to diagnostics and treatment of patients with diabetes mellitus, prevention and treatment of vascular and neurological complications of disease. The lectures were delivered also by the leading cardiologists, neurologists, gynecologists, surgeons. All presentations were actively attended which was confirmed by the more than 30 thousands visitors of the site where the conference was translated.
   Also, the participants paid attention to the presentation of the new book written by the Head of the Department of Diabetology of Institute of Family Medicine of National University of health care of Ukraine Professor  Boris Mankovsky "Diabetic neuropathy - from the brain to the fingers".