Training of 1-year of studying 18 interns in specialty "Surgery" began at the Department of Surgery and Vascular Surgery of Shupyk National Healthcare University of Ukraine (head of the department – prof. S. Savoliuk) on September 1, 2021.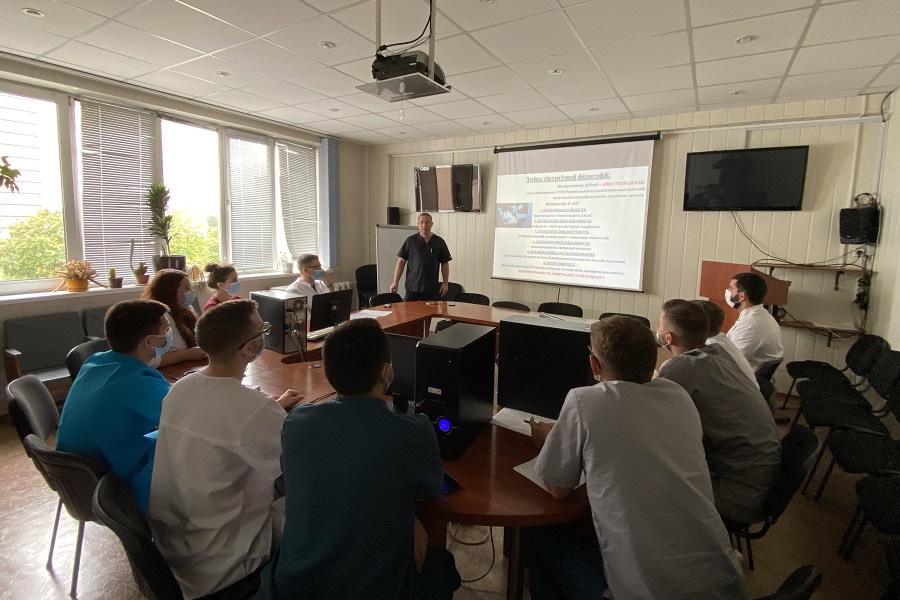 Prof. S. Savoliuk at the introductory lecture reported about the 1-year of internship training plan and the tasks that facing young professionals in these difficult quarantine conditions, and the requirements for the level of theoretical and practical training with emphasis on modern minimally invasive surgical (laparoscopic, endoscopic) techniques and technologies of enhanced recovery after surgery, principles of evidence-based medicine in emergency and planned surgery, on the features and conditions of surgical care during the pandemic COVID-19.
Schedules of lectures, seminars and practical classes were presented, which will be held both remotely (online), in classrooms (in subgroups of 5 people), in the simulation class of the department (to practice basic manual surgical skills on laparoscopic simulators, with different electrosurgical instruments and platforms, with various suturing devices) at the clinical bases of the department. There was published a schedule of classes on adjacent cycles with focus on preparation for the licensing exam KROK-3.
At the end of the meeting prof.  S. Savoliuk wished their young colleagues inspiration in learning and mastering the intricacies of the profession of surgeon.