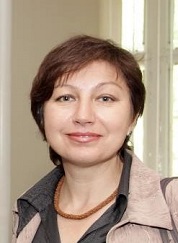 PHD Philology (2000), Associate Professor (2003), Associate Professor of Pedagogy, Psychology, Medical and Pharmaceutical Law (2021).
She graduated from Donetsk State University with a degree in philology and specialties of a Ukrainian language and literature teacher; ethics and aesthetics of world culture teacher; journalist (1989-1995).
Makeyevka Institute of Economics and Humanities, master's degree, specialty: psychologist (2015). Postgraduate education:
Theory and practice of art therapy: a variety of approaches. Specialization: art therapy in work with trauma, family therapy.
Psychological counseling. Specialization: trauma therapy.
Since 2015, she has worked in the public sector with people who have suffered psychological trauma as a result of hostilities in eastern Ukraine.
From 2020, she works on the hotline "Lifeline Ukraine" (national, professional line on suicide prevention and mental health support).
Scientific interests: trauma therapy, art therapy, family therapy, psychology of culture, culturology.
Awards: the award of the President of Ukraine "For humanitarian participation in the anti-terrorist operation" (2016).