Autumn is the time of a number of activities that contribute to the improvement of medical care for cancer patients.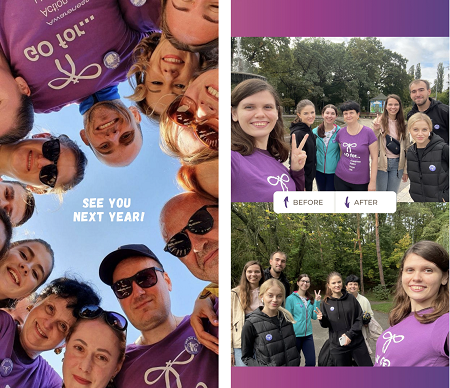 On September 20 - World Gynecological Oncology Day (GO_day), launched by the European Society of Gynecological Oncologists (ESGO) and the European Network of Patient Advocacy Groups (ENGAGE) in 2019.
 In 2021 GO_day was celebrated in Ukraine for the second time. The motto of the current campaign is "Information is power and communication is the solution". This motto reflects the main goal of GO_day - to strengthen the union of patients and doctors. The initiators of the campaign urge women to "dare to ask", which means look for information about gynecological cancers, ask questions to doctors, undergo regular gynecological examinations.
This year, employees of the Department of Oncology, Department of Oncogynaecology of the National Cancer Institute together with members of the youth NGO "SciHunt", members of the patient organization of women with gynecological cancer history "Phoenix" joined the event in Kiev, Mykolaiv and Dnipro. As part of the Kyiv event, a team of young activists together with the ambassador of the Engage Teens project in Ukraine, a fifth-year student of the Bogomolets National Medical University Lyzogub Margaryta, held a race in Holosiivskyi Park and prepared a video about the event and how to join the campaign.
Associate Professor of Oncology Shupyk National Healthcare University of Ukraine Nataliya Tsip helped with the review and translation into Ukrainian of 4 booklets for patients on prevention, diagnosis and treatment of gynecological cancers, which are available in electronic version at the following links:
https://drive.google.com/file/d/1T9tc9q32pUdw30WtqxSPFyaELMWDZQvi/view?usp=drivesdk
https://drive.google.com/file/d/14nEWQPMUIGEw0PcFRis6__EHLhSBReFW/view?usp=drivesdk
https://drive.google.com/file/d/1ObMIMeSZkqlyNPqVAskT0v8f2CfkRzKq/view?usp=drivesdk
https://drive.google.com/file/d/1r8_Q8Zyg_Erk0BsqQ86FuZR5GKeEpPoM/view?usp=drivesdk
Join the campaign next year!