Opening speach were made by: First Vice-Rector of the Shupyk National Healthcare University of Ukraine, Corresponding Member of the National Academy of Medical Sciences of Ukraine Y. Vdovychenko, Head of the Department of child and adolescents diseases, Prof. G. Beketova and President of the Ukrainian Assosoation of Continuing Professional Education for doctors and pharmacists, Ph.D. O. Scherbynska. 
With the support of the Shupyk National Healthcare University of Ukraine, the Department of Child and Adolescent diseases co-organized the event together with Ukrainian Association of Continuing Professional Education for doctors and pharmacists. The international congress was attended by leading experts, scientists, doctors from various medical fields from Ukraine, Finland and Germany.

Prof. Otto Helve from the University of Helsinki and Prof. Tobias Welte, Director of the Pulmonoligy clinic of the medical school of the University of Hanover made speech, which aroused great interest.
Among Ukrainian experts great interest made reports from G. Beketova, Y. Stepanov, S. Dubova, O. Ohotnikova, E. Shunko, A. Kosakovsky and other leading Ukrainian Scientists. The Congress was held simultaneously in three halls, so the listeners had the opportunity choose exactly the reports, that were interesting to them.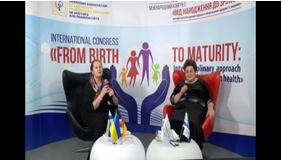 Symposiums, experts panel discussions, workshops, online-exhibition - all this activities took place during the Congress. In the reports the most relevant problems of neonatology, pediatrics, therapy, family medicine, cardiology, pulmonology, neurology widely discussed. A lot of attention has been assigned to the COVID-19 infection and post-COVID-19 syndrome.
The section "Clinical Council" aroused special interest of doctors, where from more than 50 difficult clinical cases, exwere analyzed three of the post difficult and most interesting from the point of early diagnosis and treatment. A series of panel discussions took place with the participation of internal medicine experts, 10 practical workshops were conducted by the specialists from the Department of Child and Adolescents of Shupyk National Healthcare University of Ukraine: Associate Professors N. Alekseenko, I. Goriacheva, O. Soldatova, assistant V. Vovk.
The simulation training on Basic Life Support was also conducted. 
More than 5,000 listeners took part in the congress every day. They praised the professionalism of the speakers and the relevance of the issues covered, expressed their sincere gratitude to them and emphasize the need for high activity of the medical community in a pandemic.