Students go to university to meet great professors, they go to university to work with colleagues and researchers in a laboratory, they go to university to experience the social life. During the academic year 2020–2021, higher education institutions worldwide closed in response to the COVID-19 pandemic, necessitating a rapid shift to distance education.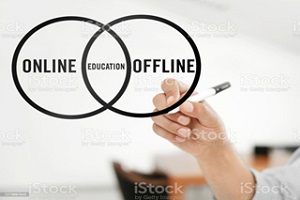 Many teachers in Ukraine intend to continue hosting lectures online at the start of the new academic year due to fears around Covid transmission. The Department of Foreign Languages of our University plans to use a "blended model" that will combine the flexibility of online lectures with more interactive activities in-person, such as workshops. There is evidence that learning online can be more effective in a number of ways. Some research shows that on average, students retain 25-60 % more material when learning online compared to only 8-10 % in a classroom. The time needed to prepare and produce online teaching materials is much higher than for off-line lectures. Different formats of assessment are used to provide qualitative education for our listeners. As trainers, we can offer students' and listeners' support via email, on social media or through an online chat system. The research methods adopted throughout this project were designed with the intent to recognize the importance of the contributions of both teacher and learners within online learning environments in higher education contexts.
Some tips for teachers for efficient online education:
Make short sessions/periods of classes. Preferably 40-45 minutes.
Know the technology. Give very clear instructions.
The last class of the week can be held as doubt clearing sessions.
Assign tasks and deadlines according to other classes, so the students do not have submission deadlines with the same dates for more than one subject.
Request regular feedback and be mindful of misinterpretation. Encourage presentation of work in a variety of formats.
Regularly check all links, resources, modules, and activities.
As stated above both online and offline study has its benefits and shortcomings. And that is why education system, including both forms of study, can indeed create a compelling education in society.