On October 6-8, 2021, representatives of the Department of Infectious Diseases Institute of Family Medicine of the Shupyk National Healthcare University of Ukraine Professor Oleksandr Duda and postgraduate student Irina Manzheleeva took part in the International Congress "Actual Problem of Medicine" dedicated to the 100th anniversary of Birthday of Professor Tamerlan Aliyev ", Baku, Azerbaijan.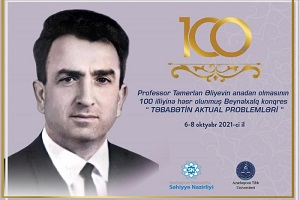 Professor Oleksandr Duda and post-graduate student Iryna Manzheleeva made a report in English on "Coronavirus Disease (COVID-19): Recent Variability of Clinical Signs". The authors showed significant differences in the clinical signs of disease waves caused by infection of different strains of SARS-CoV-2.
The presentation contains the results of international reports and the results of our own search, comparing the prevalence of different symptoms and the results of laboratory studies in patients with COVID-19 during different waves.
This work was highly appreciated by participants from 15 countries, the speakers answered many questions and received new ideas for further research.