On April 27, the long-awaited event for doctors of various specialties teleconference "COVID-19: clinical discussion of the main syndromes of the disease" took place. During this event leading experts shared the most valuable experience gained during the year of relentless fight against coronavirus disease, which will now be useful to every practitioner, regardless of specialty and professional experience.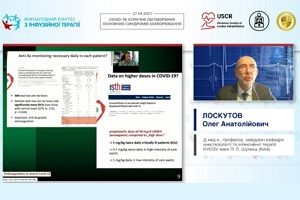 Employees of the Department of Anesthesiology and Intensive Care of Shupyk National Healthcare University of Ukraine took an active part in the teleconference's work. 
Thus, the Head of the Department of Anesthesiology and Intensive Care, Professor Oleg Loskutov gave a lecture on "Rhythm disorders in patients with COVID-19: a review of current guidelines", which highlighted the main links in heart disease with COVID-19, and shared his own experience in treating complex cases in patients with cardiac arrhythmias and outlined future directions of intensive care for post-COVID syndrome in patients with a cardiac profile.
The second report of Professor Oleg Loskutov "Neuroinvasion and neurological complications in COVID-19" was also rich and meaningful, in which the speaker revealed the features of the clinical picture and promising methods of treatment and neurological rehabilitation of patients with neurological complications in acute coronavirus disease.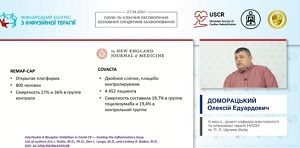 The experience of using a promising absorber of free oxygen radicals Edaravon in patients with COVID-19 was shared by associate professor Oleksiy Domoratskiy in his lecture "The effect of Edaravon on the dynamics of IL-6 levels in patients with severe COVID-19. Own observations". The speaker shared his personal experiences and showed that the modern antihypoxant Edaravon has a powerful depressant effect on the processes of systemic inflammation and "cytokine storm" in patients with COVID-19. 
Another lecture was given by Professor of the Department of Anesthesiology and Intensive Care Oleksandr Halushko on "Disorders of carbohydrate metabolism in patients with severe COVID-19: causes and tactical steps". The speaker elaborated on the causes of complicated coronavirus infection in patients with diabetes mellitus and revealed the identified features of the clinical picture and rules of treatment of patients with diabetic ketoacidosis in the case of combined development of acute stage COVID-19.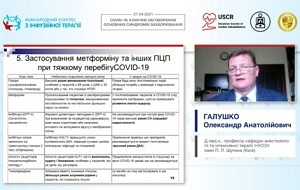 Lectures by representatives of our University were broadcast live on YouTube, aroused great interest and several questions from listeners. 
In total, more than 30,000 doctors and scientists from all over Ukraine took part in the work of Teleconference.