The Department of Medical Informatics Shupyk National Healthcare Univercity of Ukraine and the Deggendorf Institute of Technology (DIT), the Federal Republic of Germany, annually hold the Digital Health Day.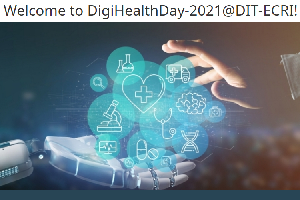 DigiHealthDay-2021 is hosted by DIT in cooperation with its partners: Bavarian State Ministry of Health and Care, Healthcare Information and Management Systems Society (HIMSS), International Society for Telemedicine & eHealth (ISfTeH), International Medical Informatics Association (IMIA), European Federation for Medical Informatics (EFMI), German Society of Digital Medicine (DGDM), German Telemedicine Society (DGTelemed), Bavarian Telemedicine Alliance (BTA), Armenian Association of Telemedicine (AATM), City of Pfarrkirchen, Russian-Armenian University (RAU), People's Friendship University of Russia (RUDN), Shupyk National Healthcare University of Ukraine and DigitalHealthNews.eu  (media partner).
Recognizing this European Campus Rottal-Inn of Deggendorf Institute of Technology (DIT-ECRI) remains focused on the academic knowledge exchange in Digital Health through DigiHealthDay™-2021.
Upcoming events within the DigiHealthDay-2021 series include special guest lectures delivered by world-renounced experts, dedicated to understanding the impact of Digital Health on healthcare from an international perspective.
Prof. Jörg Debatin, Chairman of the Healthcare Innovation Center, Federal Ministry of Health (Germany), in his lecture 'Digital Medicine in Germany: Charting the Future', on June 14th, talked about digital health technologies and their development in Germany, including their implementing / adopting, new regulations, infrastructure connectivity and interoperability. 
Prof. Joseph Kvedar, Vice President for Partners' Health Care and Chair of the Board of the American Telemedicine Association (ATA), in his lecture 'Telehealth from the US Perspective, Past, Present and Future', on July 9th, will talk about adopting Telehealth and its' progression in USA, during the pandemic, describe the basics laid in place before, and the trends expected to be seen in the early future.
Do not miss the opportunity to listen to international experts, and ask questions. You can join these exclusive DigiHealthDay talks from anywhere around the globe. Register, if you have not yet done it, and make sure you don't miss the opportunity!
If you did not attend past workshops, in June and July, we will offer to Your attention even more workshops on digital health products and patients' safety, business analytics in radiology images, health data' trustworthy and importance for learning health systems, artificial intellect, big data analytics in healthcare, and telemedicine accredition.
Take a look at the lineup of DigiHealthDay-2021 speakers and events on our website www.th-deg.de/digihealthday.
A good possibility will be to join DigiHealthDay-2021, on November 12, Panel Discussion on the Future of Digital Health Data, keynote and impulse talks with the leading experts and stakeholders. Among them are: Prof. Sylvia Thun, Head of Core Unit eHealth & Interoperability, Berlin Institute of Health @ Charité; Prof. Rajendra Gupta, President, Disease Management Association of India; Dr. Bertalan Meskó, Director of The Medical Futurist Institute; Dr. Filippo Martino, Chairman of the German Society of Digital Medicine e.V. (DGDM); Tatyana Kanzaveli, Founder and CEO of Open Health Network (USA); Artur Olesch, Founder & Editor-in-Chief of about Digital Health; and Dr. Georg Münzenrieder, Head of Unit of Digitalization at Bavarian State Ministry of Health and Care.
This year we have a special 'Student Session', which gives the possibility for Digital Health program students and graduates to present their ideas to well-known researchers in the Digital Health industry from universities, and research institutes worldwide, it the chance to win a cash prize, and place a publication in online Journal of the International Society for Telemedicine and eHealth and in the symposium proceedings. The further information can be found on the website.
We would also like to remind you about the possibility to submit your research outcomes as abstracts or articles. Selected abstracts and articles will be published in the symposium proceedings and in the Journal of the International Society for Telemedicine and eHealth (JISfTeH). Deadline for submission is August 1st. For more information, check the 'Submissions'  section on website.
Participation in DigiHealthDay is free!
Registration is required to attend any DigiHealthDay event.
Follow the link to Register.  Follow the news on Facebook and LinkedIn.