Stably high indicators of scientific and innovative activity of the Department of Surgery and Vascular Surgery (Head of the Department – Professor S. Savoliuk) of Shupyk National Healthcare University of Ukraine,
which provide high rating indicators of the department, are achieved by the joint work of the department and the clinic in order to prepare promising researchers for effective reserve for assistantships from among PhD students and research of the department in the planned initiative research work "Innovative technologies in the surgical treatment of diseases of the abdominal cavity, abdominal wall and blood vessels" (deadline 2017–2021)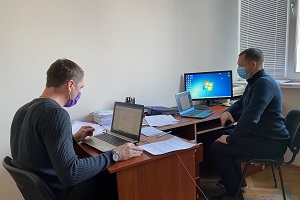 Thus, on March 24, 2021 at the regular departmental meeting, which due to quarantine restrictions and COVID-19 epidemic situation, was held in a remote format, there was an attestation of full-time PhD student of the 4th years of studying – R. Gerashchenko  on the topic "Endovenous electric welding in the treatment of ascending thrombophlebitis of the great saphenous vein" under the guidance of Professor V. Khodos, dedicated to the innovative section of urgent minimally invasive phlebology. 
The speech of the graduate student testified that the dissertation work is completed, work is underway to prepare an interdepartmental seminar for preliminary consideration of the dissertation research.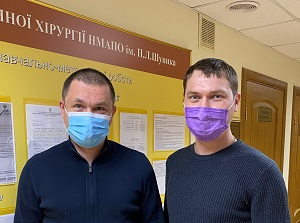 Based on the results of the dissertation, 8 scientific professional articles were published, of which 4 articles in periodicals indexed in scientometric databases Scopus (3) and Web of Science (1), and 4 articles in professional publications recommended by the Ministry of  Education and Science of Ukraine, received 1 patent for useful model. 
In addition, the results of the dissertation were included in the scientific monograph of the Department of Surgery and Vascular Surgery – "Innovative minimally invasive technologies in the surgical treatment of chronic diseases of the lower extremities" (author's team – Professor S. Savoliuk, Professor V. Khodos, V. Gorbovets, M. Muz, R. Gerashchenko), which is generalization of the cathedral experience (10000 examined and more than 2500 operated patients) application of modern endovenous surgical techniques – laser coagulation, radiofrequency ablation, electrowelding and adhesive obliteration, puncture sclerotherapy, principles of drug and compression therapy.
The decision of the departmental meeting was to recommend dissertation and preparation for its preliminary consideration at the interdepartmental seminar.